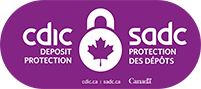 The Canada Deposit Insurance Corporation (CDIC) is a federal Crown corporation created by the Parliament of Canada in 1967 to protect your deposits made with member financial institutions in case of their failure.
Community Trust Company is a member of CDIC.
Community Trust Company is also known under the following tradenames:
Community Trust
Société Fiduciaire Communauté
The following instruments and/or products of Community Trust Company are eligible for deposit insurance from CDIC, subject always to maximum coverage limitations as outlined in the CDIC brochure Protecting Your Deposits and provided such deposits are in Canadian funds, are payable in Canada, and have a term of no more than 5 years.
Savings Accounts
Maximizer Savings Account
Non-Registered GICs
Short-term Non-Registered GICs
Cashable Non-Registered GICs
Long-term Non-Registered GICs
Registered Accounts
Registered Retirement Savings Plan (RRSP)
Short-term registered GIC
Long-term registered GIC
Cashable registered GIC
Registered Retirement Income Fund (RRIF)
Short-term registered GIC
Long-term registered GIC
Cashable registered GIC
Tax-Free Savings Account (TFSA)
Short-term registered GIC
Long-term registered GIC
Cashable registered GIC
Registered Disability Savings Plan (RDSP)
Short-term registered GIC
Long-term registered GIC
Cashable registered GIC
Locked-in Retirement Savings Account (LRSP)
Short-term registered GIC
Long-term registered GIC
Cashable registered GIC
Life Income Fund (LIF)
Short-term registered GIC
Long-term registered GIC
Cashable registered GIC
Locked-in Retirement Account (LIRA)
Short-term registered GIC
Long-term registered GIC
Cashable registered GIC